Equitack is much more than a Saddle Shop. We are a team of accomplished Saddle Experts dedicated to matching each of our riders and their horses to any and all high-end used saddles. We offer professional one-on-one consultations in-store, locally as well as Virtually.
Co-founder & General Manager
David co-founded Equitack after having many years of experience in the Custom Saddle and Equine Industry, as well as being a rider himself. He has built profound client relationships with many Top Riders & Trainers throughout the U.S., Europe, and Locally. His expertise in High-end saddles melded with his creative mindset keeps Equitack forever growing for our Equestrians.
Master Saddle Craftsman & Repair Specialist
Orlando has more than a knack for saddles, he has a deep-rooted passion that is expressed full-heartedly throughout his work and technique. He has over 15 years of experience in a wide variety of saddle brands, from panel modifications to seat repairs, and was trained under France's top master craftsman. Orlando combines the ability to understand the technical aspects of the saddle, overall design as well as client perspective to create the ultimate fit for any horse or rider.
Account Manager & Online Saddle Expert
Rikki oversees the day-to-day operations for Equitack and Customer Service. As a Saddle Expert for over 6 years and a lifelong Equestrian, Rikki shares a genuine dedication and keen eye for recognizing the perfect high-end saddle for both horse and rider across all disciplines virtually.
Store Manager & NJ/PA Saddle Expert
Lindsey is no stranger to horses or hard work while growing up in Oregon on her family's Cattle Ranch. While she may have grown up on the Ranch, Lindsey has always had a deep passion for English Riding and knows her way around the Hunter ring like the best of them. Her passion for the sport and powerful work ethic is what makes her a great asset to Equitack as our Store Manager and NJ/PA Saddle Expert. With over 6 years of saddle fitting experience, Lindsey is devoted to providing the best saddle fit for riders and their horses in all disciplines.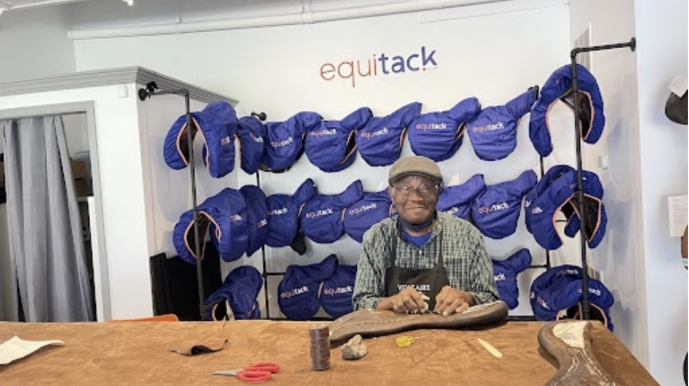 Committed to his craft since 1988, Mr. Winford came to the United States from Jamaica to pave the way not only for his name, but also for his talent for saddle craftsmanship. We like to consider him here as a legend considering how long the inhabitants and natives of the Tri-State area lived. bringing their saddles to Mr. Winford for repairs! His constant dedication, years of riding expertise and personality shine through in every details of his work here at Equitack.